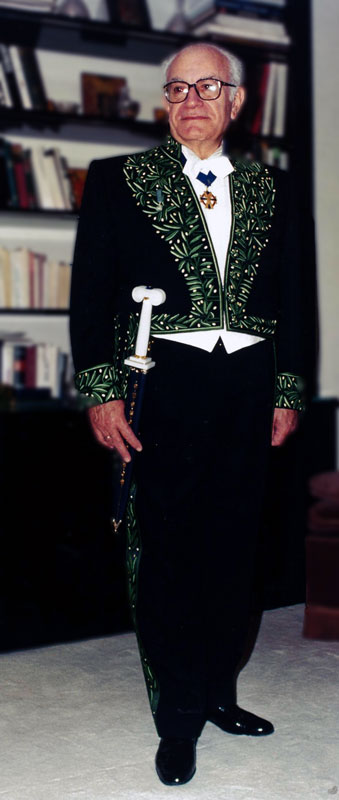 Ilias Lalaounis (1920-2013) jeweller, artist, and academician became world renowned for creating luxurious gold jewelry steeped in history. He was the Founder of the Ilias Lalaounis Jewelry Museum which he renounced it to be his fifth child and a temple to hold not his own legacy but the one that would cherish from his ancestors.
He was born in Athens in 1920, the fourth generation of a family of goldsmiths and watchmakers originating from Delphi. He was born in the heart of Athens under the sacred rock of the Acropolis. He studied economics and business and attended Law courses at the University of Athens. He was trained in design with Alexandros Alexandrakis, a Greek painter, in draughtsmanship and also studied byzantine music. He extensively did research throughout his life on various subjects for inspiration to his designs. He has received many awards for his art with the outmost important being that of the French Academy of Fine Arts in 1990, as the only jeweler ever to be elected as its member.
In 1940 he becomes CEO of the family firm with jewelry "ZOLOTAS" founded by his uncle Euthymios Zolotas in 1895. In the 1950′s, while Greece was recovering from the war, Lalaounis' vision became clear: he decided to breathe new life into Greek museum artefacts and transform them into jewelry by reviving age-old techniques such as granulation, filigree, hand-weaving and hand-hammering, and simultaneously introducing the use of modern technology. As a designer and goldsmith his aim was to produce an object of beauty while seeking to convey the spiritual and symbolic link of his creations to their historical past. At those very difficult years within the Greek society, both politically and financially, Lalaounis also turned to new ways of promoting the business. At first with the importing of chains, later continuing with mineral cutting for the decoration of jewelry and objects.
In 1969 he sets up his own firm "Ilias Lalaounis – Greek Gold S.A. Initially branches were opened on several Greek Islands and soon expanded through Europe, USA, and Asia to number more than 38 Lalaounis galleries. He overwhelmed his clientele with the sheer diversity of his exquisite handmade jewelry that became increasingly popular from London and New York to as far as Istanbul and Tokyo, while exhibiting his work in over 70 solo exhibitions worldwide. Between 1969 and 2002 he presented 50 collections in 18.000 designs. Lalaounis was distinguished for reviving ancient Greek goldsmithing and promoting it through his collections worldwide throughout the second half of the 20th century. Over 25 collections were inspired by ancient Greek history from the Pre-historic era to the Byzantine Empire. Ancient artefacts sparked off his imagination but were not the only inspiration for his jewelry designs for the woman of today. His knowledge for the art and history of early civilizations led to 15 collections based on various cultures in Europe, Asia and America. In the '70s he proved his inexhaustible ability to create with new ideas spectacular designs based on modern technology, astronomy, nature and medicine.
In 1993, the company's workshops were moved to new, purpose-built facilities and his factory was transformed in the current establishment to house the first Jewelry Museum in Greece. Lalaounis envisaged a social role for the Museum in endorsing the development of contemporary Greek jewelry, through a framework of promotion, display and academic research that such an institution may offer. Today, in its superbly equipped new workshops, Ilias Lalaounis – Greek Gold LTD produces the designs sold in the company's stores in Greece and abroad. In line with the family tradition, Ilias Lalaounis' daughters Aikaterini, Demetra, Maria direct the company and Ioanna the museum.
His creations were exhibited in over 70 solo exhibitions at museums and galleries worldwide. Among them the "Victoria and Albert Museum", the "Smithsonian Institute", the "Philadelphia Museum of Art", the "Israel Museum in Jerusalem", the "Pushkin Museum of Fine Arts", "La Chapelle de la Sorbonne", the "National Museum of Art of Romania", the "Turkish and Islamic Arts Museum". In 1993, he founded the "Ilias Lalaounis Jewelry Museum" at the foot of the Acropolis.
During a career that span 70 years Ilias Lalaounis received numerous awards and honors for his contribution to the arts, the most important of which are:
• Τhe Prix Throlet of the Académie des Beaux-Arts, Institut de France for his book "Metamorphoses"
• "Chevalier de l'Ordre des Arts et Lettres" by the French Republic
• "Membre Correspondant de l'Academie de Beaux Arts", Institut de France
• "Archon Exarchos" from the Ecumenical Patriarch of Constantinople
• "Commendatore dell' Ordine al Merito" of the Italian Republique
• "Doctor of Fine Arts Honoris Causa" by the University "ADELPHI" Long Island, New York
• "Commandeur dans l'Ordre des Palmes Academiques" by the French Republic
• "Chevalier de la Legion d'Honneur" by the President of the French Republic, Francois Mitterand
but he was proudest of becoming the only jeweler ever to be elected "Membre Associé  Etranger de l'Academie des Beaux Arts", Institut de France.