With their sophisticated blend of functionality and aesthetic refinement, the ILJM's purpose-built, exquisitely finished spaces are designed to accommodate all types of social and corporate events.
The ILJMuseum offers selected spaces which are ideal for art exhibitions, music concerts, dance and theatre performances, exclusive dining, product launches, seminars and lectures, book presentations, company employ training programs, as well as, meetings.  All spaces are provided with security and usher services, audiovisual equipment and catering for receptions.
On the ground level, our Entrance Hall and Atrium, welcome visitors amenably to the ILJM. These versatile, luxurious spaces are easily adapted to all kinds of events and can be used separately or in conjunction throughout the year. They are preferred to accommodate a coffee or light lunch break between sessions of a corporate events.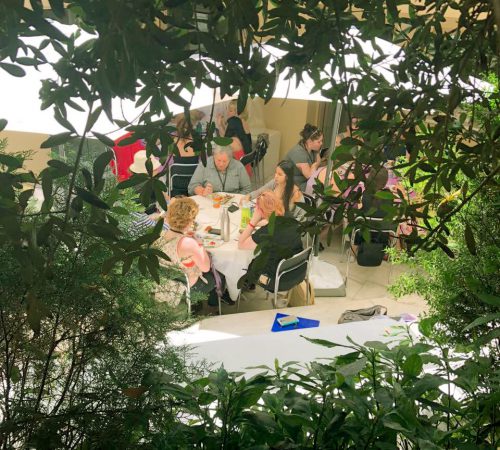 The Museum's ground-floor Café & Atrium and the Museum Roof Terrace Café with the unique Parthenon view operate daily for visitors, offering coffee, refreshments and a selection of light meals.
TEMPORARY EXHIBITION SPACE
The unique ambiance of the ILJM Temporary Exhibition Space make it an environment ideally suited to hosting exhibitions and special events. It can be used separately or in conjunction with the neighboring Multiple Function Room, and constitutes an ideal choice for dining.
The Multiple Function Room is a highly versatile space that can be used to accommodate a variety of corporate and social events. The Space's windows allow for natural light and a view towards the Acropolis Museum and the Acropolis Hill. The Space is designed to be multi functional to host small size conferences, corporate meetings, press conferences, book presentations or corporate training events. As an auxiliary space it can also be used for social events, cocktails or seated dinners.
ROOF TERRACE SCULPTURE GALLERY
The Sculpture Gallery is offered for exhibitions as well as exclusive events. A bright, sunny room during the winter months, it is ideal for private exhibitions, trunk shows, and gatherings. The space can also be used as an auxiliary space with the outdoor Roof Terrace which looks up at Athens best view of the Parthenon.